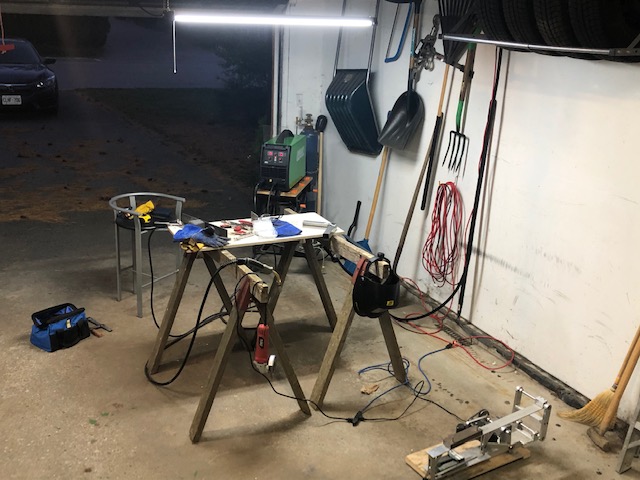 This is my original welding table, an old piece of particle core sheet on a couple even older sawhorses. Needless to say this is not ideal, getting a good ground on smaller work pieces is challenging and constantly putting out fires is distracting. When the CertiFlat 2'x4′ welding table went on sale at Princess Auto I rushed out and bought one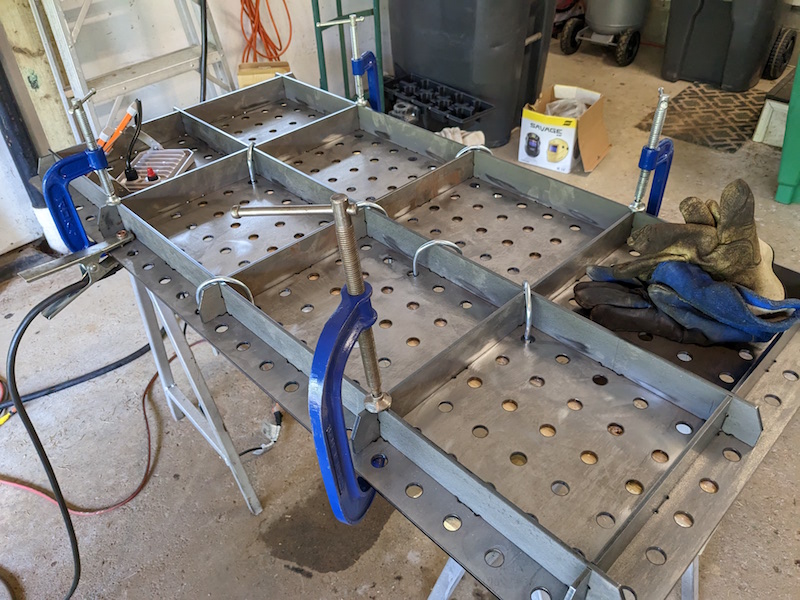 All the table parts are laser cut for a perfect fit. The procedure is to lay the top, with the crown down, on a table or across a pair of sawhorses. The lattice of support beams are then arranged on what will be the bottom surface of the table. There are tabs on the beams and slots in the table top that they engage with. U-bolts (and some clamps) are used to draw the table top onto the support beams at all intersections. The beams are then tacked onto the bottom surface of the table top. The table can now be flipped over and checked for flatness.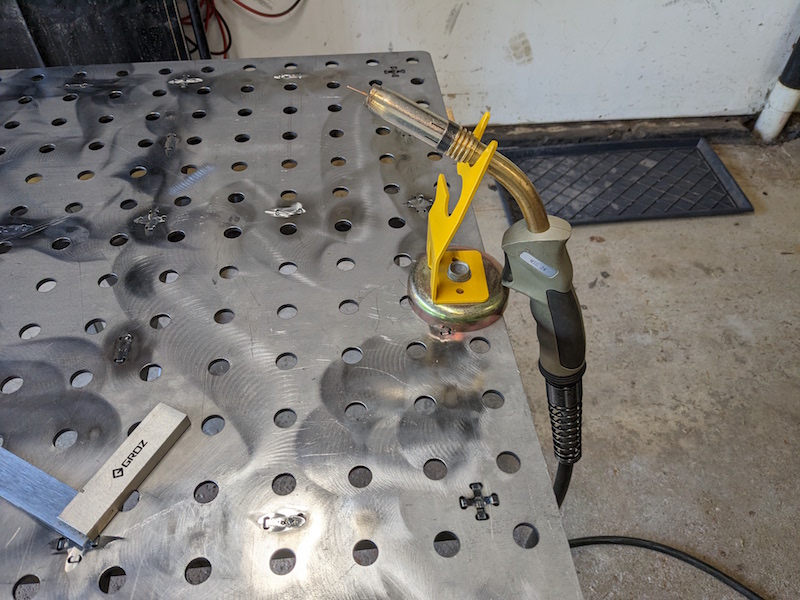 All the tabs and slots are now welded and any welding lumps created are carefully ground off. The table weighs about 100 lbs. which is not massive but flatness is maintained by the rigid perfectly straight beam structure under the top rather than by the thickness of the top. Very clever.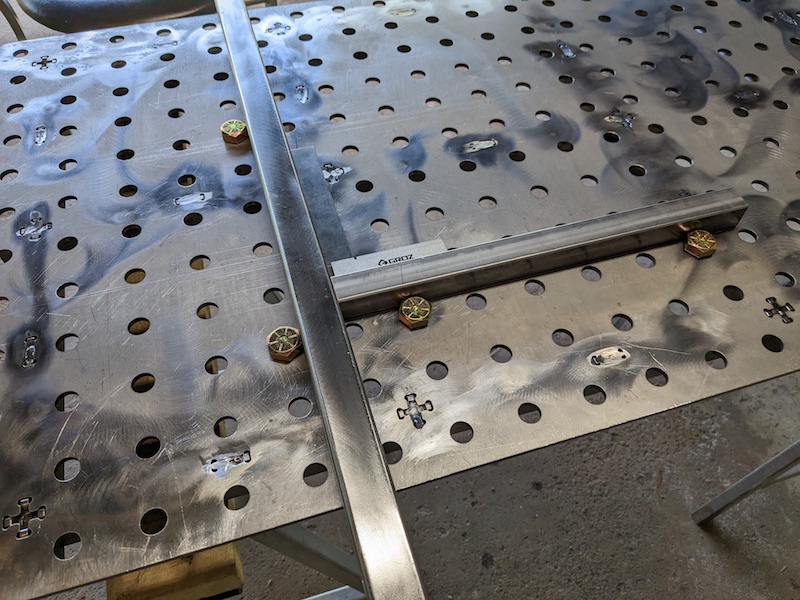 Because the hole pattern in the top is very accurately cut fixtures can be used to simplify set-up and fabrication. Some 3/4″ bolts dropped through holes in intersecting rows creates a perfect 90 degree angle. The holes can also be used to locate clamps anywhere on the surface. Time to make some fixtures.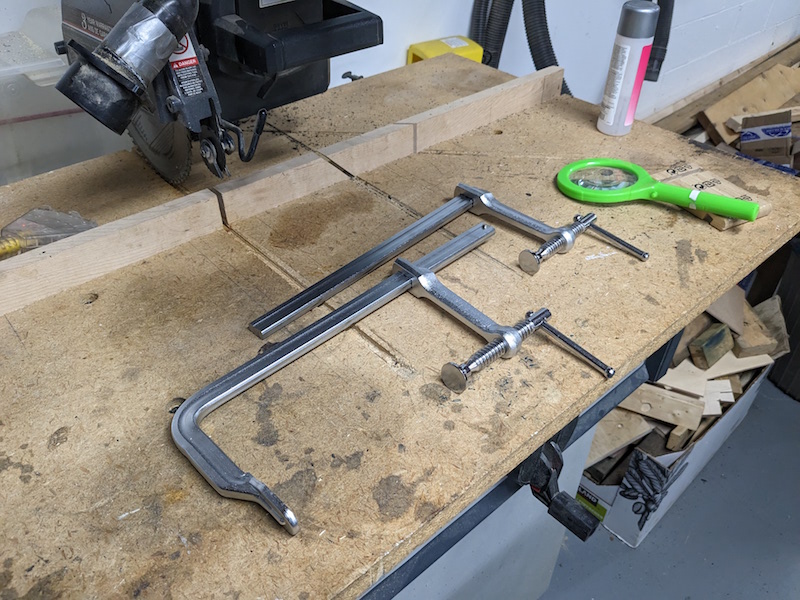 I cut the foot off of a couple heavy welding clamps, welded a 3/4″ bolt on the end and then chopped off the threaded piece.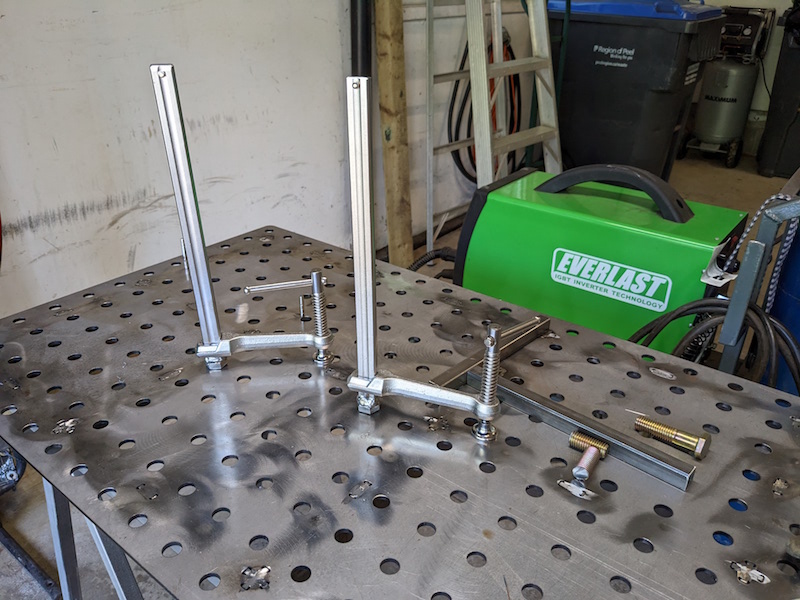 These can now be put in an hole on the table and used to clamp a work piece.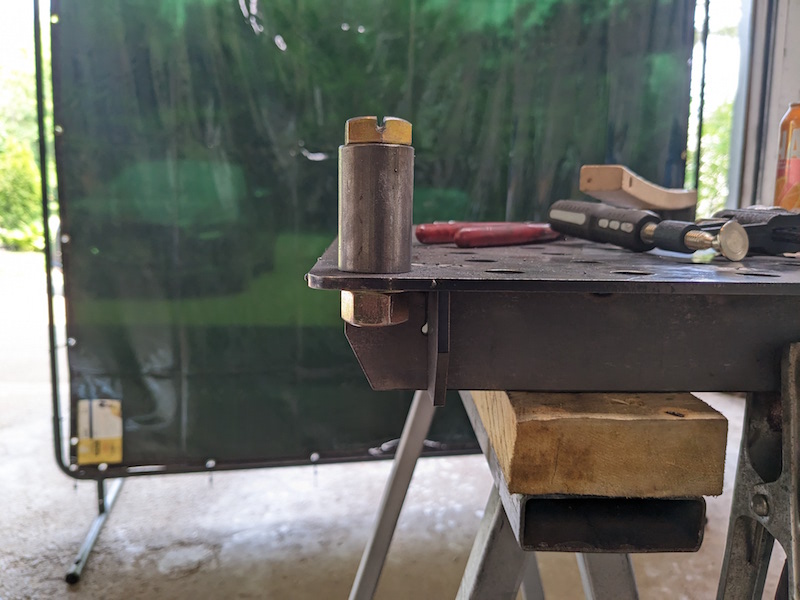 A handful of the Harbor Freight clamps volunteered for welding table duty as well. The mechanics are a bit different, a slot is cut in the bolt head, the end of the clamp thinned and welded into the slot.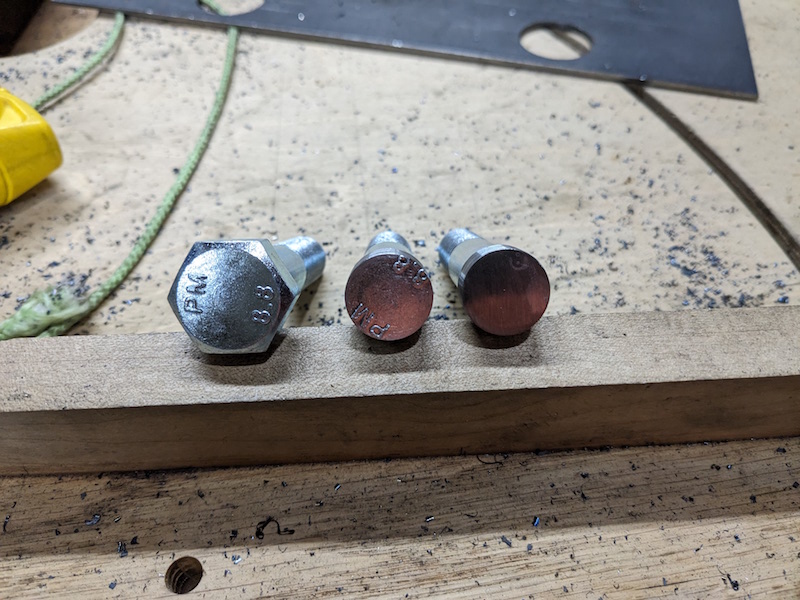 Time to make some posts for the table. I turned the heads of some 3/4″ bolts so they fit inside a bit of leftover 1″ DOM tubing. I then welded the tops and touched up the posts with the angle grinder.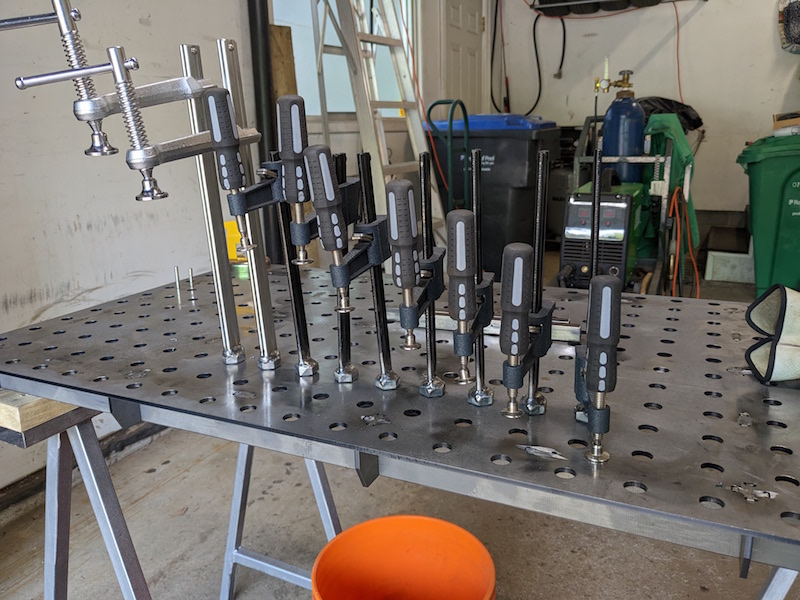 Now I have plenty of tools for the table, time to use them on all the control arms that have been waiting to get fully welded.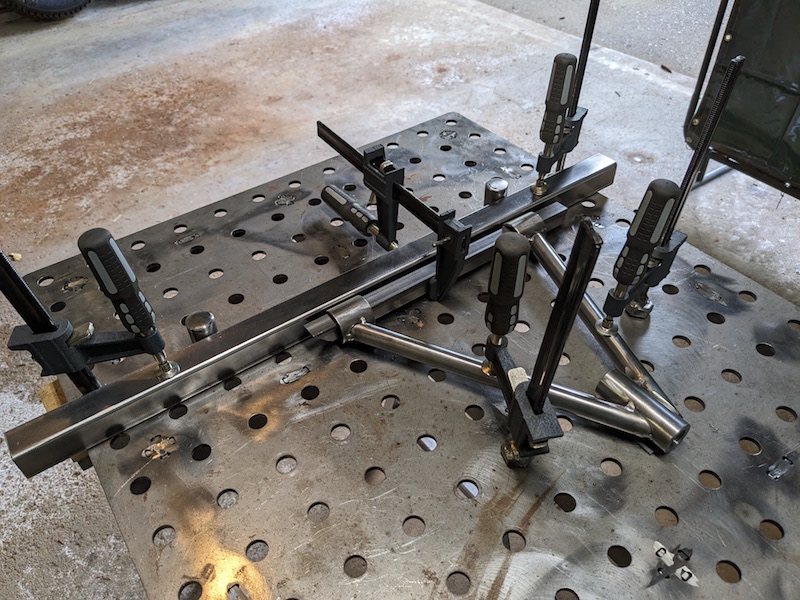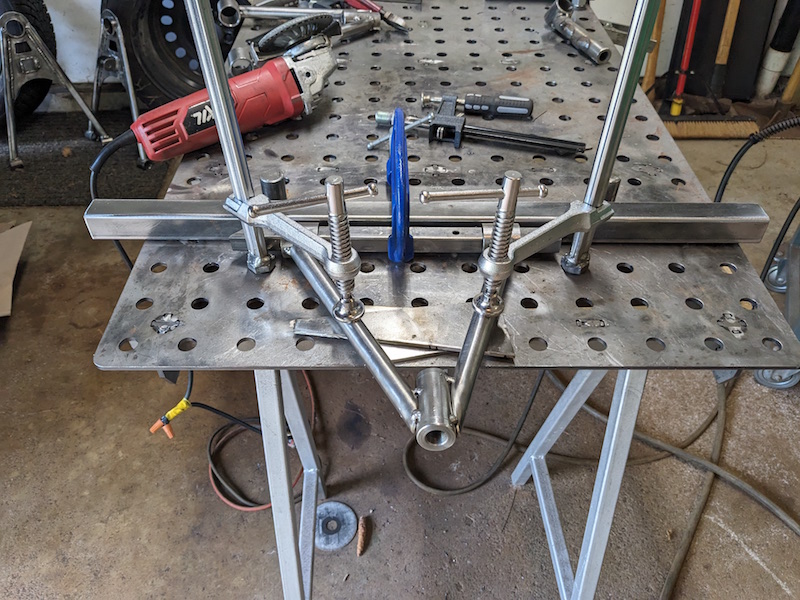 Using all of those new tools to secure the control arms for welding.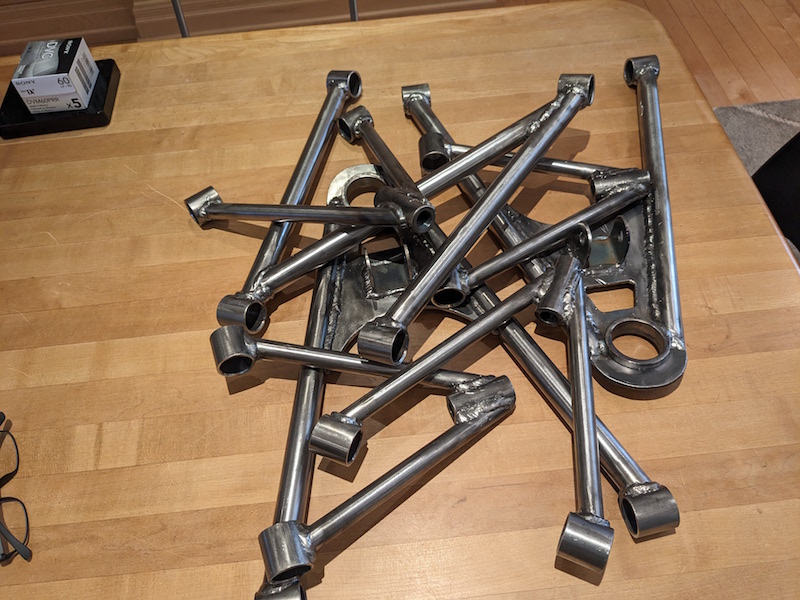 Done!