Things can only progress so far without the mechanical bits that are needed for the car. I'm talking about things like the engine, transmission, differential, CV shafts, spindles, brakes etc. Things that we can't make and currently have none of. The Locost is a small, front engine, rear wheel drive car, a configuration that has become almost extinct as manufacturers bought into the front wheel drive craze of the 80's.
One of the cars that still fits the bill is the Mazda MX5 Miata. These are very popular Locost donor candidates but finding one in Southern Ontario that is suitable for parting out (ie in bad shape) at a reasonable price is all but impossible. The other option is to piece together the parts from multiple donor vehicles. That's the route we will be taking.
So, I am off to Barrie, Ontario to meet with Paul. He has a 1992 Suzuki Samurai that is destined for the recycle yard. Before it goes we will be harvesting some parts and sending it on its' way a little lighter!
The big things coming out of it are the engine and transmission. It has an aluminum 1,300 cc SOHC inline four mated to a 5 speed manual transmission. In stock trim it puts out 68 horsepower – in non stock trim we will have to see. The engine and transmission combined weigh about 175 lbs., that will help to keep the Locost as light as possible. Unfortunately, none of the Samurai suspension or steering components will be useful, we will have to scrounge them from other vehicles.
Today's visit is to do the pre-work for the engine and transmission removal that will take place when Tom comes for a visit from Belle River in the next couple weeks.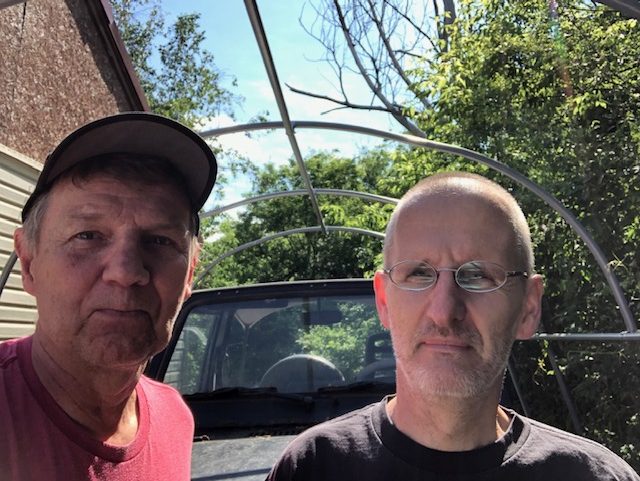 The Samurai and a selection of precision tools that we will be using. Angle grinders and cutting wheels figure predominantly in today's operation. We will be removing anything on the front end that is going to be in the way when we go to pull the engine.
Removing the radiator, front bumper and any associated sheet metal leaves the engine and transmission ready to go.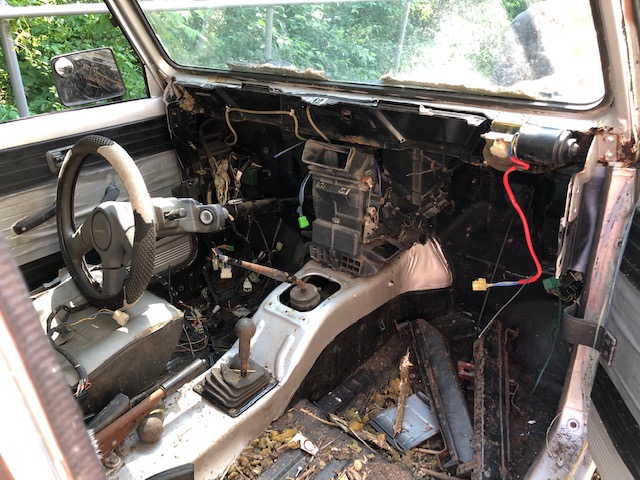 We will also be taking the steering column, instruments, headlights, turn signals, wiring harness, electronic control unit, ashtray, lighter, paint and anything else that may be useful!
Tom has joined us to pull engine and transmission out. Everything goes very smoothly and "Yoshi" is loaded and ready to head back to Mississauga.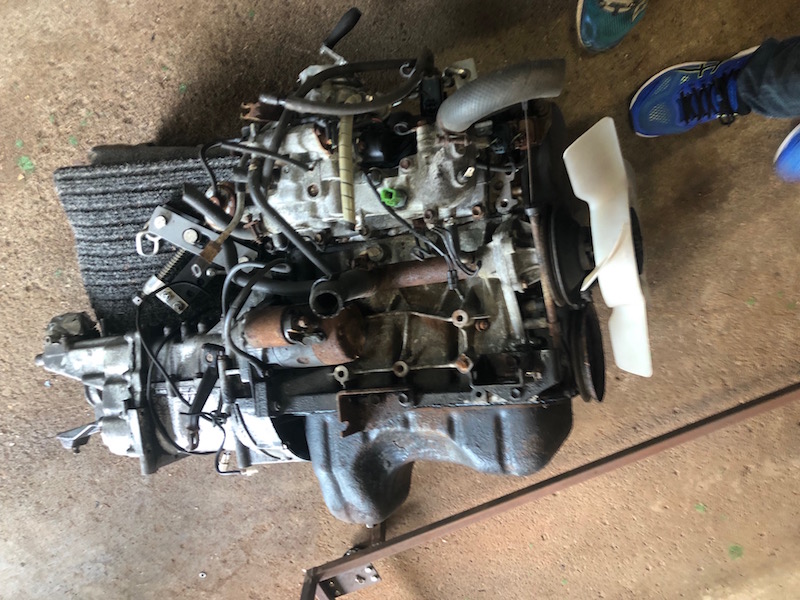 Back home with a side trip to the car wash to clean some crud off the engine and transmission. Here it is resting comfortably, it tucks under the build table quite nicely.