Just in a nick of time my brother Tom delivered a load of clamps that he picked up at Harbour Freight somewhere in the US. The 30 clamps weigh at least 50 lbs. and he humped them a few kilometers from the store to the truck stop where he was parked. Many thanks!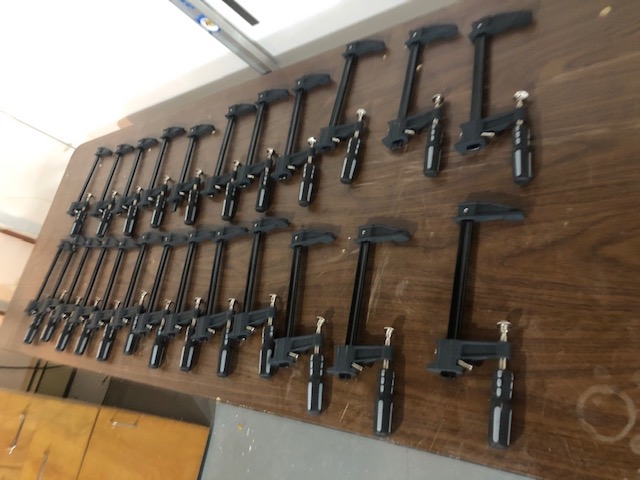 All lined up and ready for "processing". Any time that you need to do the same series of operations 30 times it gets a "little" tedious, but here we go.
Using a fly cutter in the drill press to clean off the rivet heads, this is a lot easier than a pointy drill bit – thanks for that tip Tom! Followed by a quick pounding on the vice anvil with a hammer and punch to remove it.
The clamp heads are pressed on before they are riveted. I needed to press them off or pound the bjeezus out of each one with a hammer and punch. I tried method two on a couple but it was just too inefficient, maybe I didn't have a big enough hammer? I didn't have a press, but I did have a bottle jack, so I decided to make one. I also made a small tool that fit the shape of the bar and used that on the jack to press the heads off.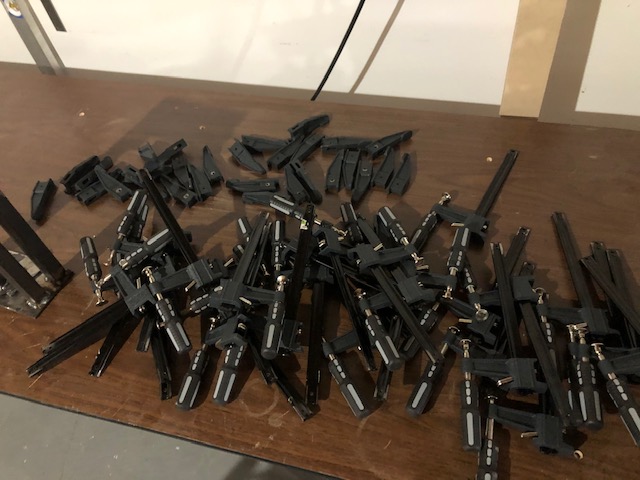 That was fun, seems my organizational skills have gone out the window as everything just gets thrown in a pile now.
Every clamp needs to have the end of the bar cleaned up with the angle grinder and flapper disk so that the heads can slide on and off easily.
Finally! We need to make new pins for all the clamps. Nails trimmed with the angle grinder will do. The End!